Murray Law Firm, PLLC 104 S. Commerce Ripley, MS 38663 Phone: (662) 993-8010 Fax: (662) 993-8011 Office Email: office@joemurraylaw.com


"All that is necessary for the triumph of evil is that
good men do nothing." - Edmund Burke
IMPORTANT MESSAGE FROM JOE: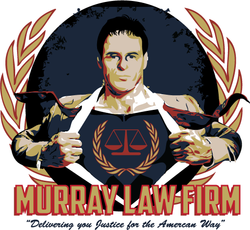 The Murray Law Firm is pleased to announce that it is accepting Social Security Disability cases. This is a major step in expanding our practice and we are excited to help a new group of clients. This move was done out of popular demand. We have received numerous requests in the past and we have decided to answer the call. We have a proven track record of fighting for our discrimination and domestic clients. It is our desire to bring the same quality of understanding and dedication to our disability clients. Again, we are expanding our practice some we will continue to accept new discrimination and domestic clients. If you or someone you know has questions about disability benefits, please feel free to contact us at 662-993-8010. Our knowledgeable disability team is ready to answer your questions. Again, we thank the people from all over the Mid-South and the nation, for trusting us to represent them in their time of need. It is truly and honor to be serving the people of this great State (and nation) and it is forever a humbling experience.

---

The Murray Law Firm takes wrongful termination and civil rights cases very seriously. If you were wrongfully terminated or suffered a civil rights violation anywhere in the State of Mississippi or any other state, don't take it lying down. MLF will fight for your rights because we are in your corner! Please contact a MLF representative today. We are here to help!

WATCH JOE'S LATEST TV APPEARANCES

Want to be well versed on the issues of the day? Tune into Fox 13 Memphis to catch one of Joe's weekly debates! While Joe is usually on Tuesday nights, it can vary! Be sure to check out our

Facebook Page

and Joe's Twitter for all the updates you will need!!! We will post some of the videos, but you can see them all at the

Fox 13 website

or watch the broadcast at 10 o'clock pm each weekday night.

---

Joe's Take on Corporal Punishment in Shelby County (TN)

MLF ON THE RADIO


Every Tuesday night from 7 pm - 7:30 pm (Central) and every Friday night from 7pm - 8pm (Central), tune into to KFAX AM Radio broadcasting out of San Francisco, California. Mr. Murray serves as the station's political/legal correspondent and discusses the events of week. You do not have to live in San Francisco to listen to Mr. Murray. Simply follow the

link to KFAX.com

and then click on the "listen live" tab atop KFAX's web page.

---

MLF IN THE NEWS


The Clarion Ledger, Mississippi's top newspaper, did a story on corporal punishment in which Joe was featured. Here is an excerpt:

"In March, Murray opened the Center for Liberty in Justice and Education, which is awaiting nonprofit status. In a typical week, he said, he gets about 50 calls related to corporal punishment, not including people stopping by his office in Ripley. 'I'm not on a crusade against corporal punishment,' Murray said, but the way things are set up, there is no protection for students and the use of the discipline approach is 'completely arbitrary,' he said."

Read the rest of the great story by the talent Marquita Brown here. If your child has been paddled in any of the 50 states, call Joe now!


***

The Tennessean, Tennessee's leading newspaper, published one of Joe's OP/EDs concerning employment discrimination in the workplace and how federal judges are essentially protecting job discrimination. Here is an excerpt:

"The courts are the last line of defense for an employee who has suffered discrimination at the hands of an employer; and even then, it is not a strong defense. All the evidence sits with the employer, as does all the money to fight the lawsuit. The odds are already against the aggrieved employee, and the courts are now hammering in the final nail."

Read the rest of Joe's OP/ED here. If you feel you were discriminated against in the workplace, call Joe NOW!